The MC Greenprint
Discover | Create | Launch
Uncover What Drives Your Business and Your Unique Selling Proposition
Let us help you discover your "why" and what sets your business apart from the competition. We not only learn what drives your business, but we work to identify what makes your business unique. Through our discovery process, our team works with you to learn the in's and out's of your brand, audience, and industry.
Develop a Marketing Plan Driven By Cohesive Brand Positioning, Messaging and Sales Alignment
The details we gather in our discovery process are the foundation to creating unique and engaging messaging that is needed to solidify your brand identity. Your brand deserves cohesive brand positioning across all marketing platforms. This is what true marketing and sales alignment look-like. We know we've been successful when your sales team receives warm leads and your business is growing.
Execute Your Plan, Track Metrics, and Grow Your Business
The MC Greenprint is a detailed plan that acts as a roadmap for your marketing efforts. Our team develops every MC Greenprint with flexibility and tailored around data. Our data-driven focus allows our team to strategize your MC Greenprint as needed. We are a team that let the data collected dictate our execution. Together, we can utilize your MC Greenprint to drive the growth needed in your business.
What is The MC Greenprint?
Tackle Your Pain Points
Uncover What Makes Your Business Unique
Strategize Your Moves
Plan Your Strategies
Market Your Business With A Plan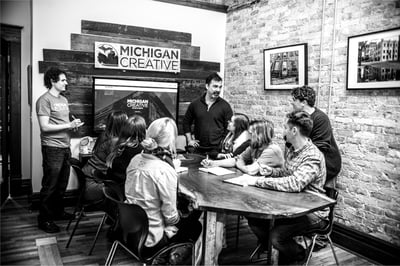 We are not your typical marketing agency. Yes, we do amazing marketing work. Our graphic design, digital advertising, content creation, web design, etc., are all great.
But at the end of the day, our company is so much more than that. So, we broke it down for you. This is marketing done differently.
"Brian and the crew at Michigan Creative constantly exceed expectations on all our marketing needs. We would recommend them to anyone looking for a full service marketing group." -Chris S.
"Michigan Creative does a great job working with you to reach your target audience in creative ways! Would highly recommend their team for your PR and Marketing needs!" -Andrew R.
"I trusted Michigan Creative to help me START my company, and they have been with me through all the stages! They are talented, genuine, out-of-the-box thinkers, and they get the job done. And done WELL! Every time." -Regina C.
Growing a Business Is Hard.
But, it doesn't have to be.
CREATE WITH US
After all, we live to create.
Don't Believe Us?
It's okay, our work speaks for itself.
WHAT ARE THEY: National Lacrosse Organization
MC IMPACT: Brand Alignment, Consulting, Web Design, Graphic Design, Video, Digital Advertising
WHAT ARE THEY: Landscaping Company
MC IMPACT: Brand Alignment, Web Design, Graphic Design, Video, Digital Advertising, SEO